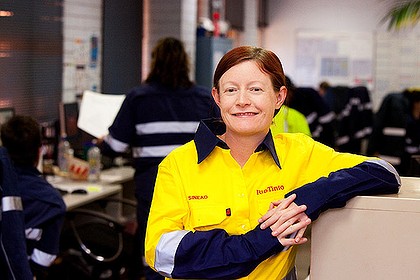 Australians have featured strongly in a new ranking of top women in the mining industry.
The Standard Bank-sponsored 100 Global Inspirational Women in Mining list had 28 Aussies, including BHP Billiton's iron ore vice-president of finance Margaret Beck and Megan Clark, chief executive of CSIRO.
Other names to make the grade were Rio Tinto's general manager Sinead Kaufman, and Andrea Sutton, CEO and managing director of Energy Resources Australia.
Women in Mining UK commissioned the survey, with the organisation's chair Amanda van Dyke claiming it is important to promote female role models in the sector.
She said the rankings followed on from a previous study that showed mining had fewer women in senior positions than in any other major global industry.
"Those with women on boards significantly outperformed those without them in terms of recorded profits, resource-to–reserve definitions and sustainability, among other metrics," Ms van Dyke stated.
"One of the main challenges identified by the report was the lack of role models in the sector."
Jenny Knot, chief executive of Standard Bank, said mining organisations must concentrate on diversity to ensure they attract, retain and develop the best employees.
"We work in a vibrant industry at a particularly dynamic time. The opportunities facing us are great and varied and we need to attract talent with those same characteristics," she added.


Michael Roche, chief executive of the Queensland Resources Council (QRC), welcomed the rankings, particularly the inclusion of seven women who have worked in the state's mining industry.
Of these, four were previous winners of the QRC's Resources Awards for Women.
These were Rio Tinto Coal's Heather Bell, BHP Billiton's Tina Markovic, Sandra Collins of MMG, and Myfwangy Szepanowski at Anglo American.
"We have so many outstanding and talented women in the resources sector in Queensland and their listing just goes to reinforce this," Mr Roche said.