The global nickel market is currently facing a number of challenges and uncertainties. In the last edition of International Mining & Metals (IMM) Insights we asked our readers what they consider the most pressing issue the industry is facing in 2014.
With 56% of the votes, Nickel Pig Iron (NPI) innovations clearly dominate the field. Recent reports have stated that technical innovations such as rotary kiln electric furnace (RKEF) have significantly reduced the costs of NPI production. This development could have an impact on the already low nickel price.
Innovations in NPI production as well as expected large nickel ores export from countries such as Brazil and New Caledonia are projected to lead to overcapacity in the market – an issue which 22% of our respondents considered to play a central role for the industry in 2014.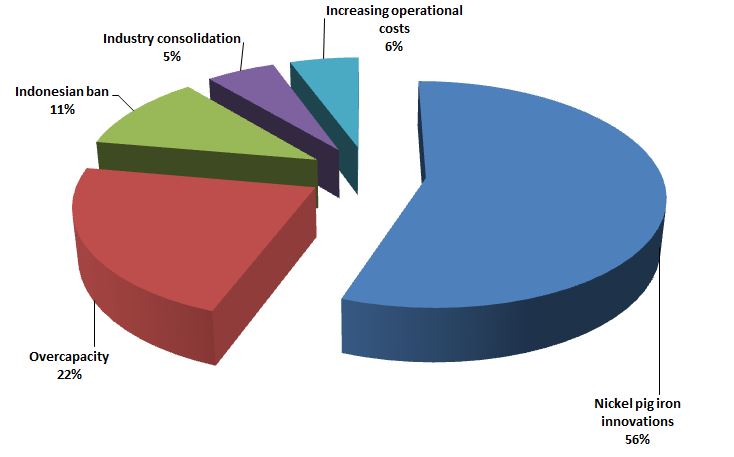 Indonesia's plans to ban exporting unprocessed ore to China from January 2014 was considered the key issue by 11% of poll respondents. "It's such an important swing factor for the market that you could see a decent rally in the nickel market if a ban is strictly enforced – at least 20 or 30 percent," said Daniel Smith, head of metals research at Standard Chartered in a Reuters article earlier in October. However, other industry experts still have their doubts if the ban will go ahead as planned. "Ahead of elections in April 2014, it's hard to imagine the government creating mass unemployment in Sulawesi and Kalimantan," said Jim Lennon, Chairman Commodities Research at Macquarie Group. "They will have to work out a political compromise."
Increasing operational costs came in fourth place with 6% of the votes in the IMM opinion poll. It was closely followed by industry consolidation which 5% of voters thought to be the dominating issue for the global nickel industry in 2014.
Do you want to learn more about how China will continue to influence the global nickel and stainless steel market? The program for China Nickel 2014 is currently being developed. To enquire about speaking or sponsorship opportunities at the 11th inception of the industry gathering for nickel producers and stainless steel makers, please visit the event website for more information.