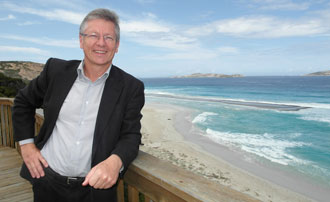 Hydraulic fracturing – or fracking – remains a controversial issue in the coal seam gas (CSG) world, not just in Australia but also on the international resources scene.
Queensland is currently pioneering fracking projects in the country, while the Western Australian government has also come out in support of the practice in an effort to unlock billions of dollars of potential in gas.
Last month, WA mining and petroleum minister Bill Marmion claimed the introduction of fracking could bring a substantial number of jobs and significant investment to the state.
Earlier this week, fracking was under the spotlight again – this time in Victoria – as a government-commissioned report suggested that the practice be introduced in the state as a way of kick-starting the industry.
Former federal minister Peter Reith, who chaired the Gas Market Taskforce that wrote the report, said there has clearly been "a lot of exaggeration about fracking".
"Independent advice to the taskforce from Geoscience Australia and other sources provided compelling evidence that fracking should be allowed," he stated.
"To deny fracking to the gas industry would be to limit its ability to explore and better understand the resource."
Victorian fracking set to go ahead?
While the report supported fracking, it admitted the geology of Victoria would probably prevent the practice from being used as intensively as in Queensland.

All of this is academic in the meantime, however, as state premier Denis Napthine said on Thursday (November 21) that a moratorium on fracking would remain in place until July 2015, while a one-year community consultation process was completed.
Mr Napthine argued that this was to ensure transparency on the issue, but the Australian Petroleum Production and Exploration Association (APPEA) slammed the decision.
Chief operating officer for eastern Australia at the APPEA Paul Fennelly said the message to businesses looking to invest in the state is "unfortunately crystal clear".
"The Victorian government is paying more attention to short-term politics than science-based evidence and is clearly not displaying enough focus on attracting investment and building the economy, nor the consequences of failing to do so," he said.
"It's an unacceptable outcome given it can take companies up to five years to get projects through approval processes to commission."
Mr Fennelly instead urged for the government to allow unobtrusive drilling to assess the extent of Victoria's CSG resources, with the state being the only one in Australia still with a moratorium on fracking.
Queensland already has projects worth $60 billion on its books, he said, which has created 30,000 jobs.
What's next for CSG?
Despite Victoria's delay in forging ahead with fracking, the practice appears to be taking root across the rest of Australia, indicating a need for more CSG training.
Studies continue to show that previous concerns about hydraulic fracturing techniques were overstated, with alleged environmental impacts less severe than originally suggested.

A recent report by the Australian Council of Learned Academies (ACOLA) estimated that the country's shale gas resources have the potential to become "economically very important".
Increasing fracking would provide a valuable additional energy source, ACOLA argued, which would reduce the nation's greenhouse gas emissions by replacing coal for electricity generation.
The organisation admitted fracking would have some effect on Australia's landscape, including an impact on communities and surface and groundwater.
"However, most can be minimised where an effective regulatory system and best monitoring practice are in place and can be remediated where they do occur," it said.
"If the shale gas industry is to earn and retain the social licence to operate, it is a matter of some urgency to have such a transparent, adaptive and effective regulatory system in place and implemented."